semi automatic tube filling sealing machine
This semi automatic tube filling and sealing machine is used for fill liquid material into soft plastic or liminated tube and sealing the tube end. It is widely used for the packing of pharmaceutical, cosmetic, foods and chemical industry.
Work Course:
This machine adopt stainless steel, operator push button to control the working process, Manual feed tube (10 working station), Quantitative filling, automatic cut, heating, sealing, eject out, all the work process adopt pneumatic system filling volume and filling speed adjustable, applies to all kinds of plastic and tube for filling, sealing the end of the date of printing, cut tail, sealing, sealing attractive appearance and tidy, high-precision filling, Hopper heating system can be provided as customer wish.
Working Video link :https://www.youtube.com/watch?v=MJY8D_FAjcI
https://www.youtube.com/watch?v=61xbnz3wApY
Operational explaination video: https://youtu.be/HQ3XrU1lphE
Structural features:
The filling quality easy to adjust, the filling quality is tunable, the computation precision is higher, stability is well. If instead pedestal that is apply the filling and the sealing of the all kinds of soft tubes, sealing figure is beauty and trim, the sealing is tightness. This machine adopts the high-quality stainless steel materials to make of contacting the material.
Specification:
Customized requirements can be satisfied .
| | |
| --- | --- |
| power supply | AC220V±10% 50Hz |
| working temperature | 5-50°C |
| filling quantity | 5-50ml , 20-200ml |
| quantity error | smaller than 1% |
| motor power | 0.75kw Frequency control |
| compressed air | 0.6Mpa-0.7Mpa |
| capacity | 10-40tubes/min |
| dimension | 1000*600*1700mm |
| weight | 400kg |
| Composite pipe | 10-50MM |
picture in details :
The machine can be customized with a mixer and double jackets for the high viscous products ,like source , gum .etc .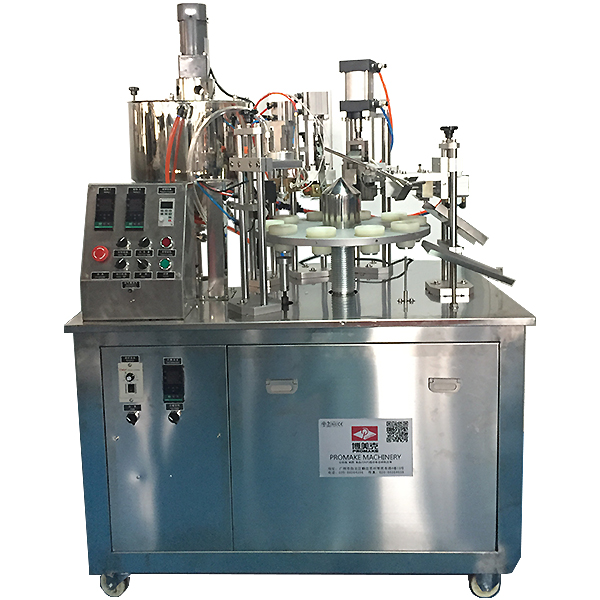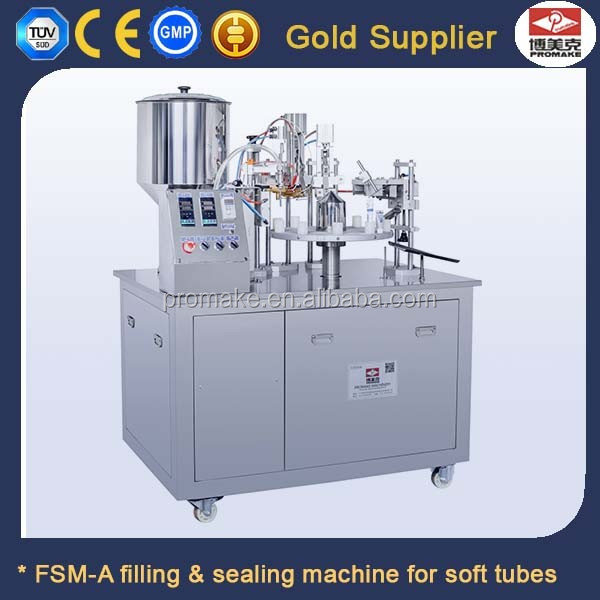 If without the fully automatic tube filling and sealing machine , please check :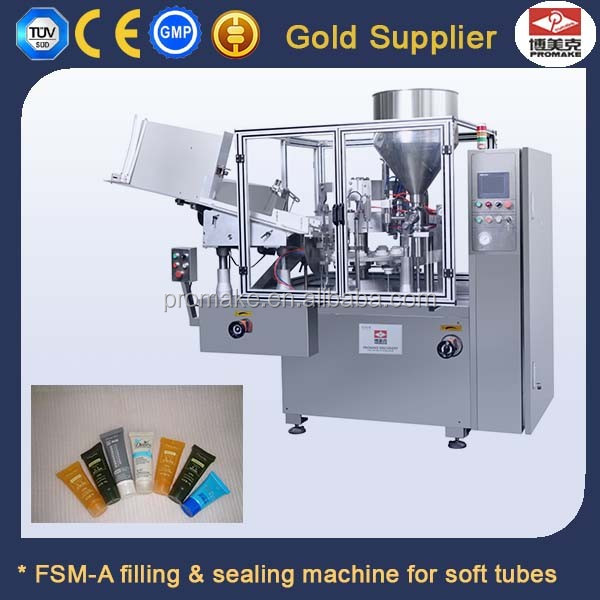 Our service:
1. All the equipment provided by our company, we will be responsible for equipment installation and commissioning to product acceptance, equipment, normal acceptance, into the production state. If the clients are aboard , the buyer need arrange the round tickets and accomodation for our engineers .
2. Responsible for equipment layout design, process design, process design.
3. To provide normal equipment operation training, for the need to train 2-3 engineering and technical personnel, a comprehensive grasp of the production process, equipment, routine maintenance, failure and production management.
4. The equipment provided is warranted for one year. In the warranty period in addition to the need for improper operation caused by the reasons, all maintenance due to equipment maintenance costs incurred by our company.During the one year , the spareparts can be provided with discount price .
5. Our company received the maintenance report, the city up to 12 hours, the country up to 48 hours to reach the scene (except for force maje reasons). ( for the Chinese market)
6. Lifetime maintenance: in the warranty period, the annual provision of a free home comprehensive services, the time can be determined by both parties, the rest of the time, if any equipment failure, my company sent to service. Maintenance of spare parts and other not higher than the market price.
7. In addition to the normal technical training, our company can also provide users with other similar manufacturers to the site training and on-site operation and other conditions, is conducive to users faster and more comprehensive grasp of technology.
8. Our company will provide customers with the latest manufacturing process, technological innovation, market dynamics and other similar industry latest information
Company information :
Guangzhou Promake Machinery Equipment Co., Ltd. is supported by Yangzhou Ou Bo Er Technology Equipment Co., Ltd. manufacturing: cosmetics, pharmaceuticals, chemicals, dairy manufacturers to provide mechanical equipment design, manufacture, installation, maintenance, technical support, technical advisers and other services. With the ever-changing technology, we uphold Seiko manufacturing, perfect on the business philosophy, especially in the vacuum emulsifier, mixer, water treatment machine, filling machine and various types of stainless steel tank equipment for the company's expertise. Production of various machinery, stainless steel drums, etc., in the functional design, energy data, materials selection, welding technology, process quality control, and even the appearance of landscaping, each process are carefully planned and requirements, the product is enough to meet the food , Pharmaceutical and other production with health inspection standards. Production line with Japanese-style traditional production technology, the introduction of Japanese professional and technical, improve product quality and technical standards, and to the new manufacturing technology and the unique plate-shaped hydraulic end plate, advanced welding, welding stress relief equipment Resulting in product features, the upgrading of life and research and development, and to meet the quality requirements and testing standards. Widely praised by the manufacturers.
We provide one-stop matching and installation of the "turnkey" service. The implementation of one year warranty, life-long home maintenance, opened a service hotline, ready to provide after-sales advisory services.
Professional technology, high-tech equipment is our best guarantee to provide high-quality products. Whether you are looking for equipment such as cosmetic, pharmaceutical, food and water treatment, or worrying about the entire project, please believe us: there are high quality products, professional facilities and engineering team waiting for you, let us and You explore, make decisions, and make progress together!
FAQ:
1. Are you a manfacturer ?
Yes .
2. Do you have after sales service center aboard ?
Yes , Eygpt and Vietnam
3. How many countries have you exported ?
Over 70 countries
4.How to place the order ?
Please send the inquiry to us and we will reply you or order details , We can make PI for you to arrange deposit payment ,we arrange the production , testing and you arrange the balance payment before delivery . We or you arrange the shipping .
5 . What is the nearest port for exporting ?
Guangzhou , Hunagpu or Nansha port .
6. What is the package of the machine ?
By plywood case or carton box(to small machine,like A03 filling machine , lab homogenizer water filling machine )
7.Do you arrange engineer go aboard to install and train us ?
Yes , ok , need you to book the round tickets and arrange the accomodation ,if beyond 3 days , the engineer salary is $80 per day .
8.When we have problems on usage , can we contact with you?
Yes , of course .
9. Do you provide the spareparts ?
Yes , with the machine , we have free spareparts for change ;within 1 year , the spareparts can be provided with discount .
10 .What are your business scope ?
Manufacturing and selling machi.nes for cosmetics ,and daily chemicals production .
11 .Do you have video link ?
Yes , the link is https://www.youtube.com/channel/UCgvCmvtITH9yF0BG4LHYAZA