Community,home decoration landscaping artificial grass for Garden

SPECIFICATION
Model:
G008
Pile height:
20-60MM
Gauge:
3/8inch
Dtex:
10000
Yarn Type:
monofilament
Yarn Material:
PE+pp
Stitches rate:
14 stitches/10 CM
Density:
14700
Backing:
PP + none woven cloth/grid PU SBR LATEX
Description:
Artificial grass model G008 with CE certification, monofilament grass yarn type and yarn material is PE.The backing material is PP+None woven. The pile height , density , backing and Dtex are all as customer order.
Description: Many different kinds backing, PP,PP+Nonewoven, PP+ net, net, PP+Nonewoven+net.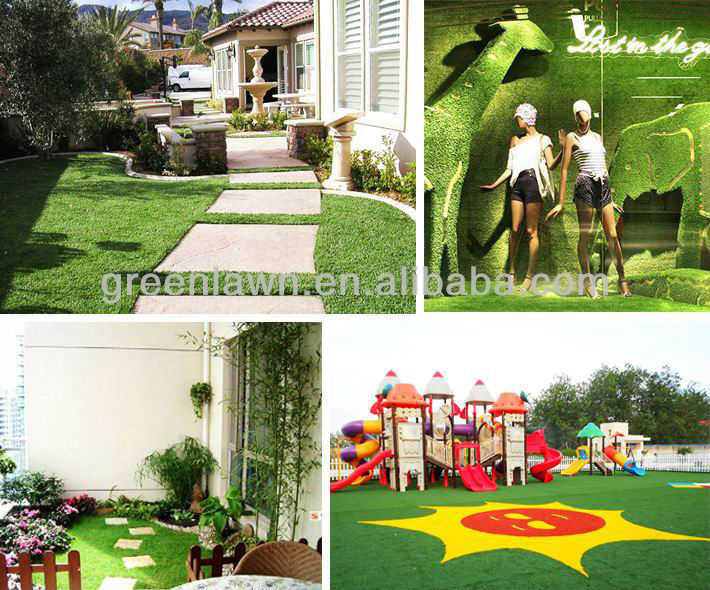 Description: High duribility and elastisity, clean, soft, you could touch my your hand,walk on it and also sleeping on it. Far away from the noisy work city, enjoying yourself in the nature enviroment.
we have CE certification, ISO9001, ISO14000, SGS and VOA.
artificial grass
Characteristic of artificial grass:
All-weather :
it is completely free from the impact of climate, greatly improving the efficient use of space, and it can be used in some extreme climate for example low and high temperature .
Evergreen:
the artificial lawn can still make you feel like spring when natural grass goes into dormancy.
Environmental protection:
the whole materials are in keeping with the demands of environmental protection and the turf surface layer is recyclable.
Simulation:
artificial lawn produced bases on the principle of bionics, its good elasticity and comfort with no direction and hardness makes users aware little difference from natural grass.
Durability:
it is not easy to fade and durable, especially applied to primary and secondary schools' grounds where use high frequently.
Economy:
it is simple and convenient to construction and can be laid in asphalt, concrete and hard battle , with little maintenance costs indeed.
Packaging
Description: You could choose many different packing ways, in rolls by PP bag,in pieces by woden case, in small rolls by films, etcs.
Installing Decoractive Artificial Grass onto Concrete or Permanent Base
1. First of all assess how much artificial grass you will need. Note: We manufacture rolls in 2 widths: 2 metres (6 feet 6 inches) or 4 metres (13 feet 1 inch) .
2. Make sure that the surface to be covered is clean and smooth ready to receive the decractive artificial grass .A self levelling compound available from any DIY store can remove surface imperfections that may show through to the top surface especially on thinner pile height products.
3. Lay the decoractive artificial grass to trim off to make that perfect edge in doorways or up a wall. Leave for around 2 to 3 hours to settle. This helps stop any wrinkling or creasing.
4. Cut and trim your decractive artificial grass , using a sharp Stanley knife making sure are no gaps between walls and decractive artificial grass .
5. Make the joins using the correct type of seaming tape and glue - only quality outdoor tape and glue should be used.
6. Apply the infill if required. Typically a sand mix will be used . Rake and spread the infill evenly, taking care not to over fill the surface. Note: Application of sand is best on a dry day. Remember that the infill
will eventually compact so you should consider adding a final layer when settled.
7. If installing on to a wooden surface such as decking or suspended floors a combination of adhesive and decractive artificial grass tacks can be used.