Beauty Personal Care Cold and Hot Facial bar

specification:
| | |
| --- | --- |
| name of commodity | hot&cool beauty instrument |
| model number | SY1508 |
| temperature | 6~42℃(±3℃) |
| vibration | 8600(±10)rpm |
| charging time | 3 hours |
| charging power | 2.5W |
| battery capacity | 850mAh |
| weight | 120g |
| use time | 5 mins/time |
| voltage | 110~240V |
Product Description
Will boost absorption of skin care products to bring hydrated and smooth to the touch skin.
Using the cool function makes your skin more acceptable to applying makeup - you will find makeup will stick better and look more evenly laid.
Features:
1. The device has 2 functions: Hot Massage and Cool Massage, both with Sonic Vibration, making the skin look smoother, tighter, and more flexible.
• Hot Massage: 42℃ Increases blood circulation and helps to better absorb skin care products.
• Cool Massage: 6℃ Tightens the skin and shrinks pores, improves skin texture and removes fine lines and wrinkles.
•With Sonic Vibration:trengthens the effect of hot massage and cool massage.
2.The massage head fits every curve of your face, making the skincare highly efficient. 3. Auto-timing system: 2.5 minutes for each setting. 4. Mini size, portable. 5. USB rechargeable, environmentally friendly.
How to use: 1. Press the On/Off switch for 3 seconds and the Hot Massage indicator light will turn red. For Hot Message with Sonic Vibration, press the On/Off switch a second time and the Sonic vibration indicator light will turn yellow. For Cool Massage, press the On/Off switch a third time and the Cool indicator light will turn blue. For Cool Massage with Sonic Vibration, press the On/Off switch a fourth time, and the Cool Massage with Sonic Vibration indicator light will turn yellow.
To turn off, press the On/Off switch for 3 seconds, or wait for the device to turn off automatically after 2.5 minutes on each mode. A "Beeping" sound will occur when the device switches to different modes. 2. While using, apply the skin rejuvenator to your face (including the areas around your eyes), move in a circular motion from inside to outside, bottom to top, as the skin texture varies.
Product Information:
| | |
| --- | --- |
| Name | Hot or Cold Sonic Vibration Touch Beauty Skin Rejuvenator |
| Material | ABS+ beauty screen stainless steel |
| Size: | L155*w50.6*h43.4mm |
| Weight | 120g |
| Battery type | rechargeable with usb cable |
| Frequency | 8500rpm |
| Color | White/Rose&Pink/Apple&Green/Grey/Golden |
| Design: | Fashion design |
| Logo | Customized |
| Sample Time | 3 days |
| Sample Charge | To be negotiated |
feature:
Tighten & Firm your skin by: Hot Massage / Cool Masage / Sonic Vibrations.
Shifts from hot to cool in just 3 seconds.
Instant skin rejuvenation - means you can care for your skin anytime, anywhere.
Overall use makes skin look smoother, tighter and more flexible.
Charges by using USB - no batteries needed. Will work for 1 hour once fully charged.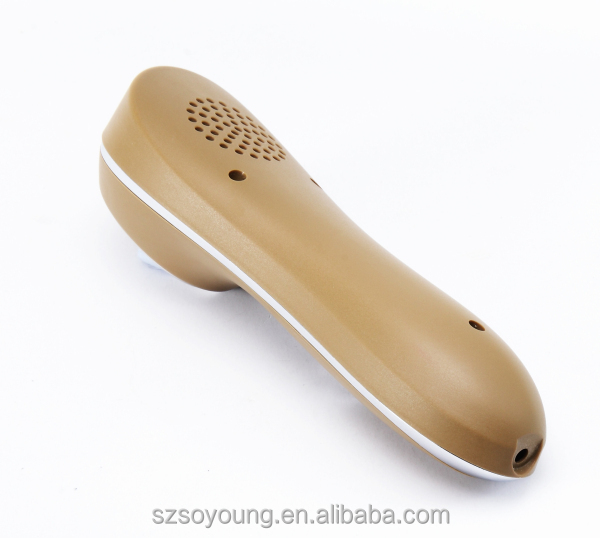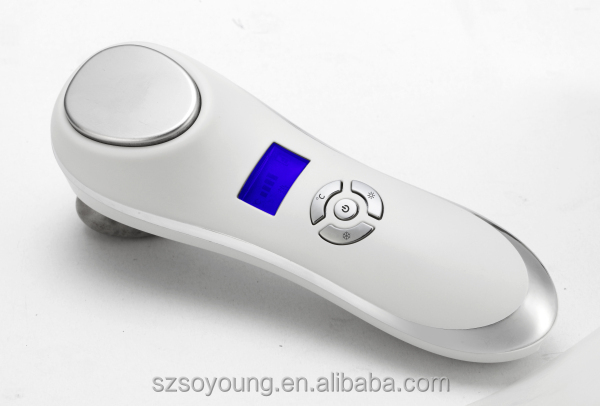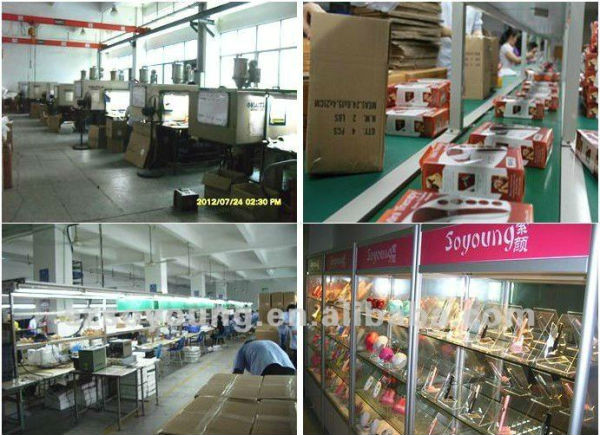 Soyoung is a leader in bringing innovative massage appliances and beauty tool to life.We are dedicated to making your life healthier,more beautiful and more relaxing with creative solutions that combine superior quality with the very latest technology.
We will provide reliable service to customers with excellent quality, reasonable price and delivery in time.
If you are interested in our products,please feel free to contact us.